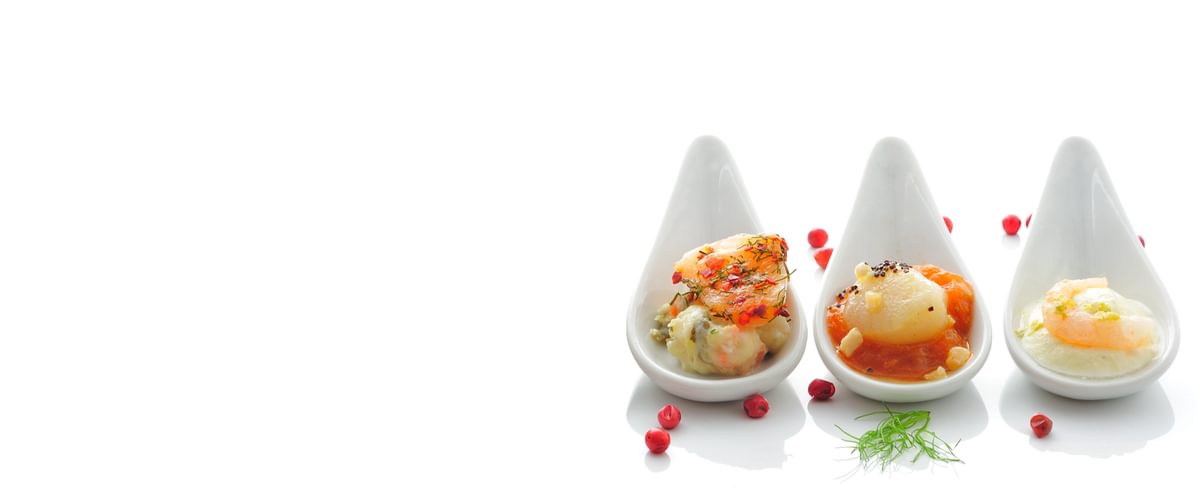 Finger Food
Finger food is the ideal culinary addition for your event: Delicious bite-sized snacks, served in an appealing way.
Find your sweet and savory favorites online now and let yourself and your guests have a great time.
Choose now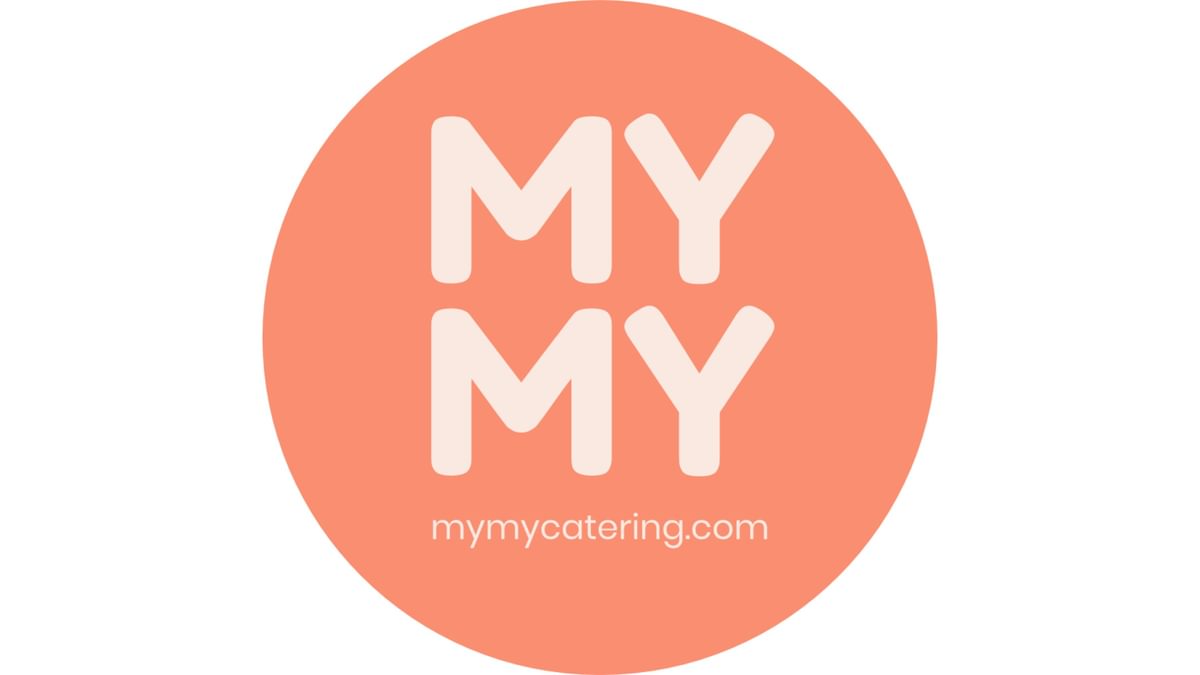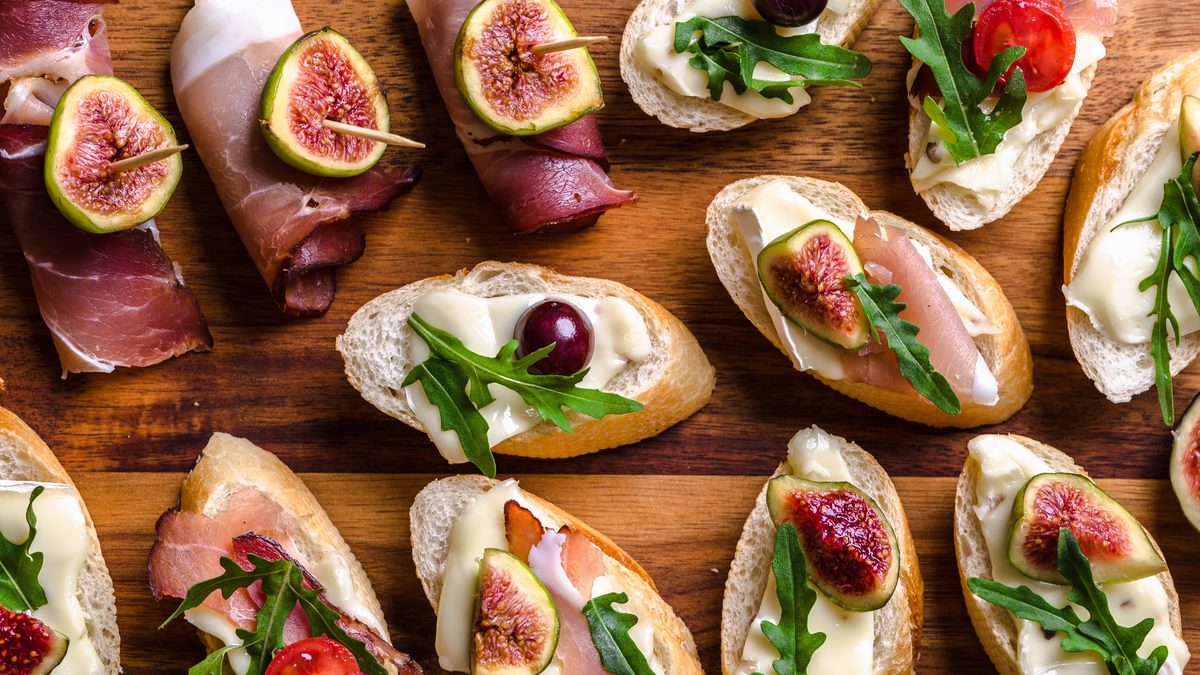 What is Finger Food?
As the name suggests, finger food is small bites that can be eaten without cutlery. It is practical and can be used as a perfect catering solution at any of your events – be it a business event, such as your company party, a conference, an anniversary celebration or for a private celebration such as your birthday, a wedding or a christening. From classic skewers to wraps, vegetable sticks with dip and mini burgers, we offer you a varied selection. Our delicious handmade finger food specialties are also ideal for the small hunger in between. You have special wishes? Contact us! We will gladly create your menu according to your individual needs and wishes.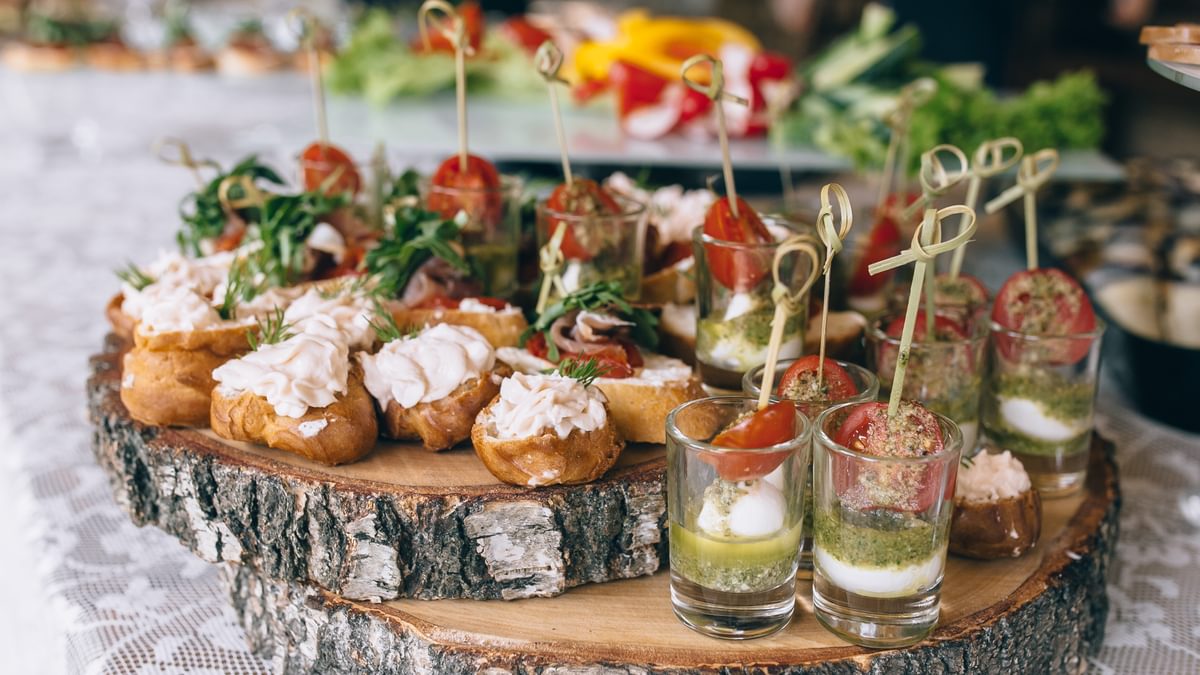 For which occasions is finger food suitable?

The ingenious thing about finger food is that it fits almost every event you have. Finger food catering is especially popular because it is practical and allows you to be flexible. Especially for the following occasions finger food catering fits perfectly:
Company celebration
Meeting
Presentation
Reception
Team lunch
Team Event
Summer party
Christmas party
Award ceremony
Company event

Company anniversary
Exhibition
Gala
open house day
stag party/ hen party
Bridal Shower
Baby Party
Christening
and many more!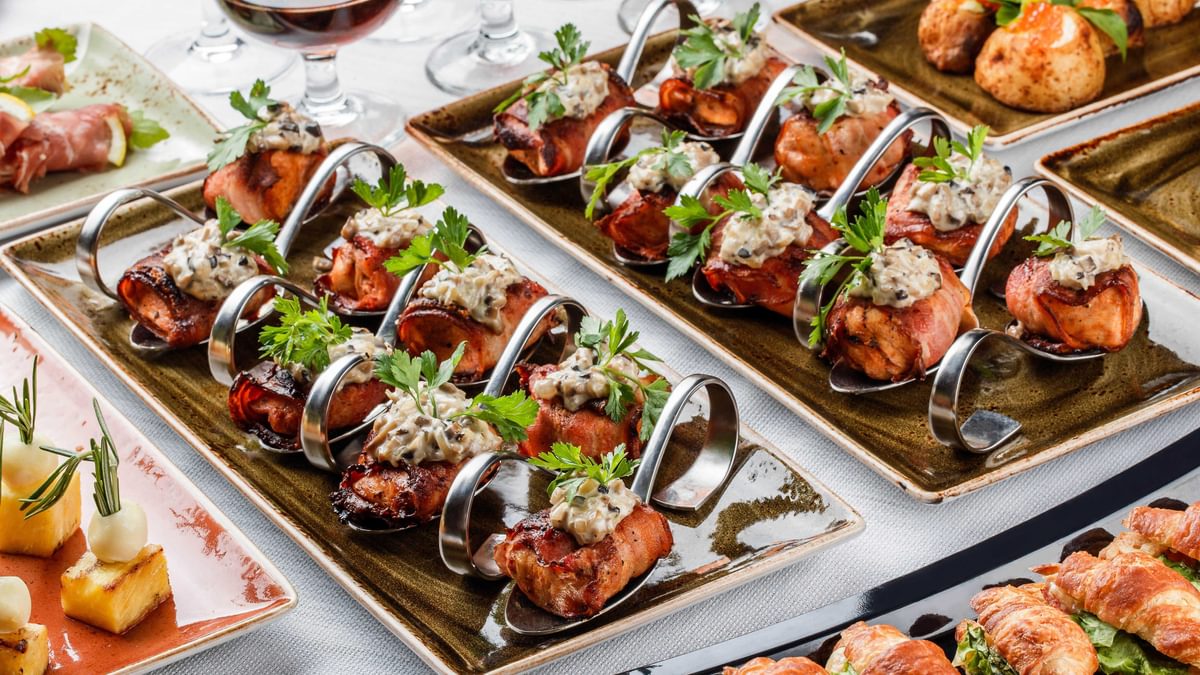 Which finger food is suitable for which occasion?
Finger food is versatile and there is lots of possibilities to combined it. With finger food you make the right choice for your event. There are no culinary limits with these delicious appetizers. However, we recommend that you adapt the selection to the time of day of your event. In the mornings, fruit and vegetable skewers and appetizers with bread are ideal, for lunchtime we suggest warm and hearty finger food variants. If, on the other hand, your event takes place in the evening, we recommend a warm / cold finger food buffet. The season should also be included in the selection of your variations. In summer, light variations with lots of fresh salad, seasonal fruit and vegetables go well, in winter you can ideally fill your finger food buffet with spicy and hearty appetizers.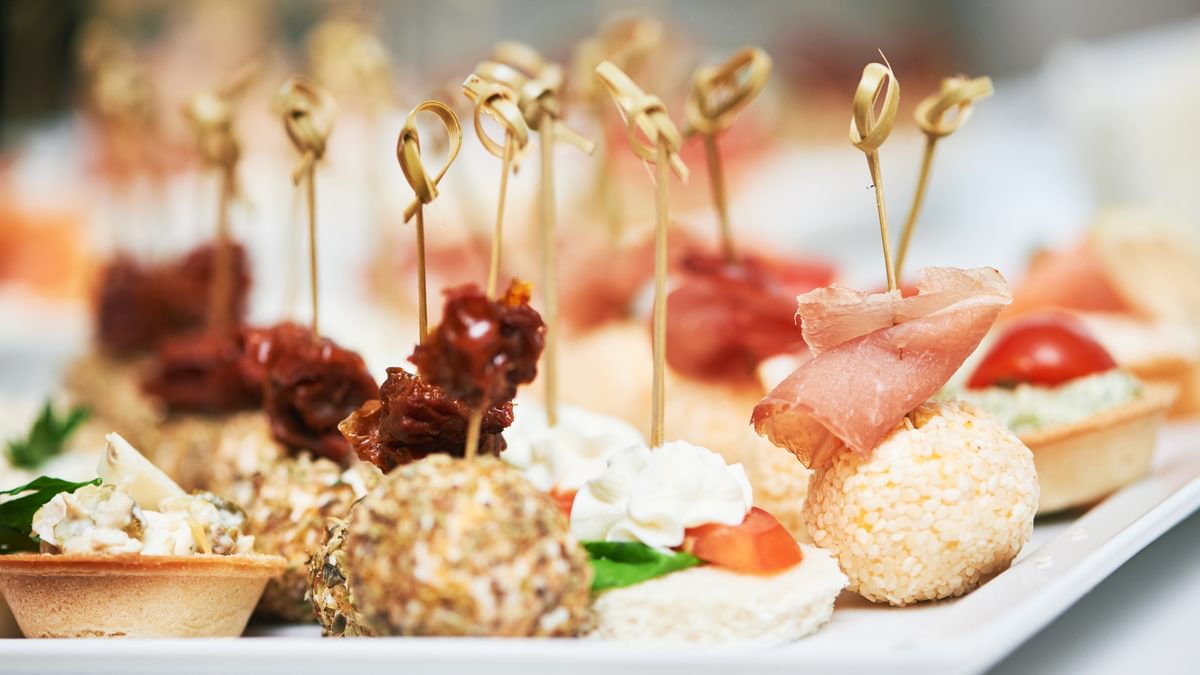 How many finger food items should be planned per guest?

That depends on whether you plan your finger food buffet as a starter or main course, snack or dessert. If you want to offer your guests finger food as a starter, we recommend 4-5 pieces. If your main course consists of delicious appetizers, you are well advised with 5-7 servings per person. With desserts you can calculate 2-3 variations for each guest. If your finger food buffet is a delicious snack in between, you should plan 3-5 servings per person.
Would you like your delicious finger food buffet to cover starters, main courses and desserts? Then it's best to plan 11-15 delicacies for each guest.

With finger food you can try your way through many different flavors. Most of your guests are probably not averse to at least trying out some unusual creations. Even if it doesn't suit your taste, the experiment will only last a bite. So put together your finger food buffet in a versatile way.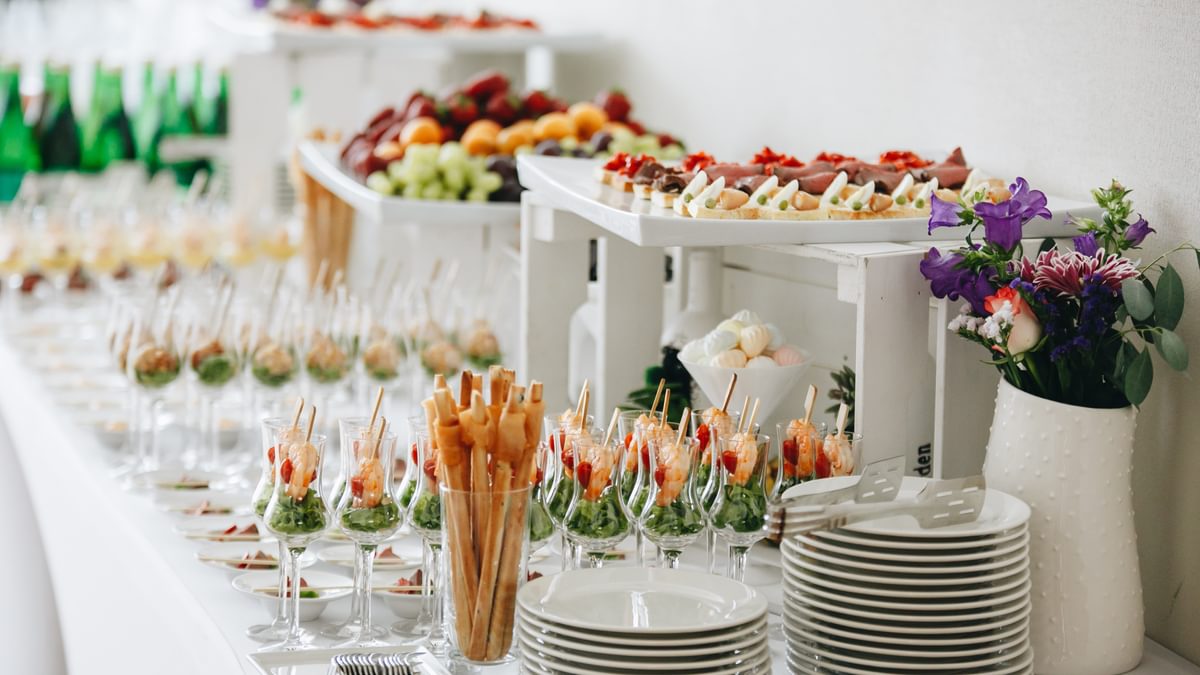 Finger food for your business event
Your selection of finger food specialties should be based on the type of your event. Canapés go perfectly with your noble reception with champagne, while wraps, sandwiches and mini burgers are a good choice for your team lunch. For your evening event, your buffet should contain warm finger food items that will fill your guests. An additional bread basket is also recommended. When choosing your finger food items, make sure to consider a balanced variety so that there is something for every guest in terms of taste. A balanced mix of sweet and savory parts as well as fish, meat and veggie options rounds off your menu perfectly.

Are you planning business catering and expecting vegan or vegetarian guests? Or do some of your guests have allergies? Contact us - we will be happy to put together an individual offer according to your wishes and needs. We look forward to providing you with catering that your guests will love.